Live Band and DJ for Your Special Event in Southern California
Looking for the best in live music and DJ music for your next celebration or special event? Hot Pursuit Music Entertainment is ready to deliver! Book one of our five unique bands to set the mood at your event and give everyone a reason to enjoy themselves! From classical music to hits from decades past and current Top 40, to country/bluegrass favorites and even Island and Irish music, our styles are diverse and tailored for every event. DJ is included with every band, or you may hire our professional DJ services only!
We're led by husband and wife duo Barry CAHILL & DELENE

St. Clair

who have been making music for years! We offer 5 unique bands, bringing you the music you want to hear.
Count on us to provide live music and DJ services for a full range of events, including weddings, parties, corporate events, conventions and other celebrations or gatherings.
We strive to keep your guests and audiences energetic and entertained! Not only do we play the hits you want to hear, we have audience participation songs, line dances, and sing-alongs!
Our bands perform in San Diego County, and travel anywhere in Southern California, nationally and worldwide! We bring a passion for music and a flair for entertainment with us wherever we go.
We're a multi-award winning band, and were voted 1st place over 31 other bands in the 2016 San Diego 10News A-List Contest and are recipients of Best of Gigmasters Awards (2012-2020).
Set the Mood with the Right Tunes
You plan the event, we'll bring the energy! Book any of our five bands or DJ for your next get-together and we promise to set the mood, so everyone is guaranteed a great time.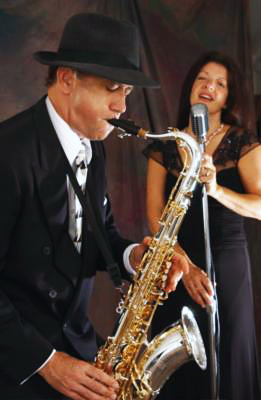 Hot Tunes for Your Cool Party
Music truly makes an event memorable. Dancing to a beautiful song for your first dance as a married couple or sharing in a group dance at a local community event these are moments you're sure to remember. When it comes to booking DJ services or live music in California for your upcoming event, Hot Pursuit Music Entertainment is the only call you need to make. Book The Hot Pursuit Variety Band, the SilverRose Classical/Jazz Band, the SilverRose Irish Band, the Big Mountain Bluegrass Band or the Big Island Beach Band, and breathe life into your celebration with unique sounds and great music that are sure to kick the fun up a notch!
When you hire us for your event, we'll make sure you get your money's worth! Music is played continuously throughout the event, and if the band needs to take a break, we'll switch over to our DJ for a specially-curated mix of songs for the duration of the break. Don't worry—we'll get back to our set quickly, to keep everyone dancing and groovin' out on the floor, having a great time! Or, if you decide to split your budget between live music and DJ dance party entertainment in California or anywhere in the U.S., we can do that too. We aim to be flexible and accommodating, so you get the music you want to hear. From the classic rock hits of the 50's and 60's, the 70's, the 80s and 90s, to energetic DJ mixes of today's popular songs, we aim to pack the dance floor and make sure each and every one of your guests has a great time.
Proudly offering live music and DJ services to the following areas including, but not limited to:
Pauma Valley, CA
San Marcos, CA
Escondido, CA
San Diego, CA
La Jolla, CA
Rancho Santa Fe, CA
Carlsbad, CA
Oceanside, CA
Vista, CA
Encinitas, CA
Fallbrook, CA
Temecula, CA
We are not limited to these areas and are willing to travel nationwide and worldwide!