Weddings, corporate events and all types of parties need the right music to set the mood. If you're looking for a high energy show, put on by experienced DJs who have a feel for the room and the music your guests want to hear, choose Hot Pursuit Music Entertainment! We'll be happy to discuss your needs for DJ services in California and will make sure your event is one that people are talking about for a long time to come.
Any Event
If your event needs music, nothing beats an experienced DJ service in California! Our DJs not only play the hits your crowd wants to hear, they're also experienced in how to create the atmosphere, mix the music, and emcee the event. From wedding introductions to announcements at your corporate event, we make sure the music sets the tone, and our DJs customize the music for YOU!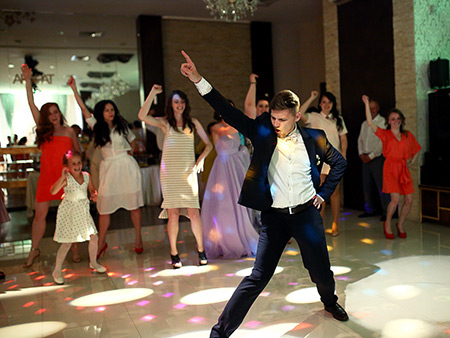 Our Music
We bring a full library of music to your celebration, specifically customized for your audience. From hits of the 70s, 80s and 90s, modern jams and up-and-coming artists, to the crooners and classics, we play whatever's right for your gathering.
Generally, our DJ services are tailored around younger audiences, playing today's radio hits and modern favorites. We can work with you to put together track lists for must-play and do-not-play songs, as well as get a feel for the types of music that will appeal to ALL your guests.
Putting on a Show
Our DJs have personality and a classy flair for entertaining! This gives an added level of excitement to your event and helps keep people engaged. Plus, with dance floor and specialty laser lighting, and state-of-the-art equipment, we're able to create an environment that your guests will thoroughly enjoy and have a ton of fun!
Book DJ Services
If you're looking for a DJ that'll pack the dance floor, shake the room and make sure everyone is having an unforgettable time at your event, book us for DJ services for your upcoming gig. Reach us today at 760-751-1876 to discuss the specifics, including playlists, lighting and more.
Interested in our other bands?