SilverRose Irish Band
Looking for the sounds of the Emerald Isle at your next event? Traditional Irish music is an often-requested favorite, which is why we've put together a group of musicians who are skilled in playing and singing traditional, authentic Irish and Scottish music! We perform on penny whistle, Irish flute, guitar, fiddle, and optional bodhran, bass, and bagpipes or uilleann pipes. We play and sing all the fun Irish sing-alongs, and jigs and reels, as well as the tender Celtic ballads.
SilverRose Irish Band hosts between two and five members depending on the size of your event, and we can even teach Irish dancing! We play at a wide variety of Irish events and you might even be able to catch us at some of our regular venues, such as McFadden's and the Tilted Kilt.
SilverRose Irish Band St. Paddy's Pala Casino Gig 2020
Our setlist includes:
All For Me Grog
Archibald McDonald of Keppoch
Banish Misfortune
Black Velvet Band
Bonnie Kate
Cooley's Reel/Drowsy Maggie
Cup of Tea
Dashing White Sergeant
Danny Boy
Down By the Sally Gardens
Drunken Sailor
Dunmore Lasses
Fiddler's Green
Fields of Gold
Flower of Scotland
Galway Girl
Gypsy Rover
If I Ever Leave This World Alive
I'll Buy Boots for Maggie
Irish Washerwoman
Jenny Picking Cockles
Julia Delaney
King of the Faeries
Little Beggarman
Loch Laven Castle
Loch Lomond
My Lovely Rose of Clare
Nine Points Roguery/Boys of Bluehill
Pretty Little Girl From Omagh
Raggle Taggle Gypsy
Scotland the Brave
Ships Are Sailing
Sweet Carnlough Bay
The Foggy Dew
The Skye Boat Song
The Worst Day Since Yesterday
Toss The Feathers
Whiskey in the Jar
When Irish Eyes Are Smiling
Wild Irish Rose
Wild Mountain Thyme
Wild Rover
---
SilverRose Jazz Ensemble
For the cocktail reception before your main event or a stand-alone cocktail reception, cool jazz is the thing! Whether it be smooth jazz, crooner jazz, standards, or even adding a little Island feel with steel drums, we will set the mood a fine evening! We perform with guitar, sax, flute, and vocals. You might hear some David Sanborn, Mindy Abair, Ella Fitzgerald, Sergio Mendez, Stan Getz, Kenny G, and some Reggae music if steel drums are added!
If you're looking for live jazz music in California, we offer packages that include everything you need in the way of music entertainment!
---
SilverRose Classical Ensemble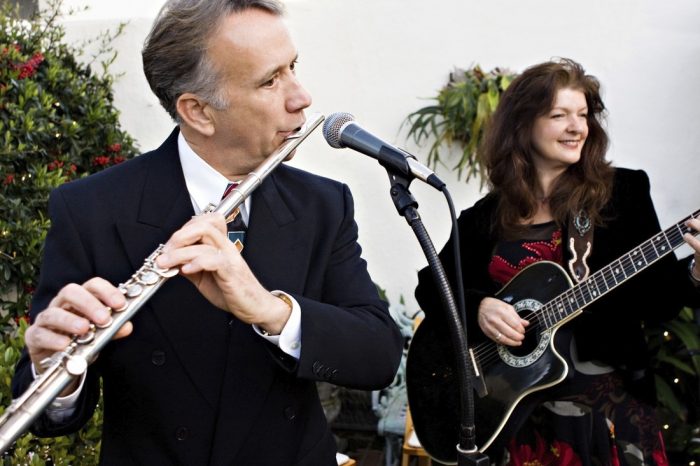 If you want to set a more classical ambiance for your event—such as a formal wedding or sophisticated get-together—The SilverRose Classical Ensemble is ready to play. We specialize in classical music performing with guitar, flute, and vocals, with a combination of classical, sacred, and popular favorites. Violin, cello, and harp are beautiful, optional add-ons.
If you're looking to book wedding reception entertainment in California we offer the perfect package. For weddings, the tone is set for a romantic ceremony: Prelude music as guests arrive and are seated, processional and recessional marches, and any music during the ceremony. We have a PA system available for officiants and musicians for outdoor wedding ceremonies.
A sampling of our setlist includes:
All I Ask Of You (Phantom of the Opera)
Ave Maria (Shubert)
Bridal Chorus (Wagner)
Canon in D (Pacabel)
Con Te Partiro (Andrea Boccelli)
Dodi Li (Trad. Jewish)
From This Moment On (Shania Twain)
Minuet in G (Bach)
Simon Tov (Trad. Jewish)
The Prayer (Andrea Boccelli and Celine Dion)
The Wedding Song (Paul Stookey)
Through The Eyes Of Love (from Ice Castles)
Trumpet Voluntary (Clarke)
Valentine (Martina McBride)
Wedding March (Mendelssohn)
I Won't Give Up (Jason Mraz)
Jesu, Joy of Man's Desiring (Bach)
Marry Me (Train)
Book SilverRose Today
Set the right mood and create the ambiance you want at your next event with the SilverRose Classical & Jazz Ensembles, or SilverRose Irish Band. Book today by calling 760-751-1876 and we'll make sure your event comes alive with the music of these genres.
Interested in something else?